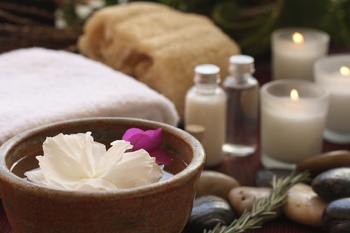 Massage
Bij Quality Massage staan genieten en ontspannen voorop, dit in een rustig en harmonisch kader.
Hierbinnen telt de ervaring van het NU, het loslaten van gedachten, het jachtige leven, de dingen die "moeten".
Een massage biedt de ideale oplossing om een uitgeputte geest en/of lichaam weer op te laden. Tijdens de behandeling daalt het gehalte aan stresshormonen en stijgt het gehalte aan endorfines. Hierdoor nemen spanningen af en versoepelen spieren en bindweefsel waardoor afvalstoffen worden afgevoerd. Jezelf op regelmatige basis laten masseren staat garant voor een meer ontspannen manier van leven.
* * *
Enjoying and relaxation is a priority at Quality Massage, in a calm and hamonious setting.
Indulge in a relaxing being mode and let go of stressfull thoughts, the hectic life, your "to-do list". Let yourself be spoilt by candles, precious fragrances in a safe and beautiful environment.
Recharge your body and mind through the gentle touch of warm etheric oils in the magic hands of Jan. During the treatment, the level of your stress hormones decreases and your endorphins increase. This reduces tensions, relaxes your muscles and connective tissue and thereby toxics are elimenated. A regular massage boosts your immune system and enhances your wellbeing.